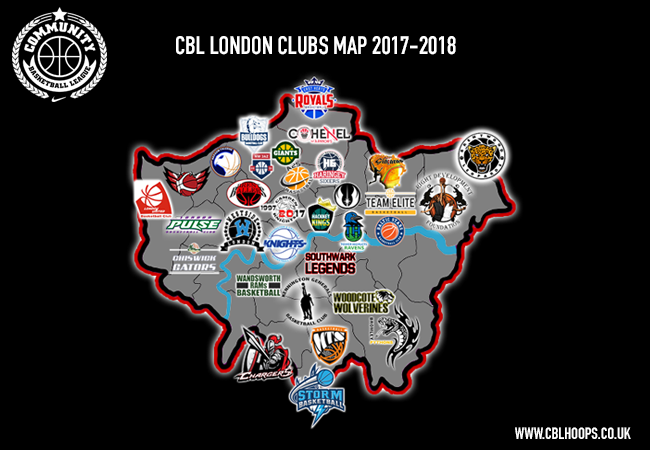 The new season for London's most exciting community basketball competition, the CBL, is set to kick off at the end of October with a record number of teams signed up for the 2017/18 season!
Over 100 teams are signed up to compete across all competitions this season, inclusive of all Premier, Development and Cup competitions, building upon the the rapid expansion of the CBL last season.  The regional growth of the league is expanding into an ever-increasing number of boroughs across the capital, with 26 London  Boroughs now represented in London's biggest grassroots league.
The new campaign ushers in some new divisions for the CBL this season which include an U20 division, U25 mens division (up from U23 last season) and a new 'development' league for the U11's.  There are also some new competitions with a girls and boys Community Cup up for grabs towards the end of the season and a brand new 'CBL All-Star Day' that aims to showcase the top players in each of the divisions while bringing the whole league together to celebrate the game through competitions, games, fun and entertainment.
CBL Commissioner Nhamo Shire:  "It's an exciting time for grassroots basketball across London right now.  We've got a lot of returning teams from last season, which is a good sign of the growing stability in our community clubs across London, plus a number of new teams we are looking forward to welcoming to the CBL competitions across multiple age groups, for the first time.  We also have a few teams who are rejoining us after a year or two away, which is fantastic to welcome them back! This season also features some exciting new competitions with the CBL Community Cup and also something I'm really looking forward to later in the year with the CBL All Star Day, where we get to celebrate all of our wonderful talent throughout the different divisions and give them the spotlight they deserve.  As ever, we'll be promoting all of our clubs and teams throughout the year and working with all our teams in helping grow the game across London and continuing to get more and more players, coaches, and fans involved.  It's going to be a great season and I can't wait to get started!"
New clubs this season:  Brentwood Leopards, Enfield Eagles, Harrow Falcons, Haringey Hornets, Hillingdon UCA, Mid-Sussex Chargers, Redbridge Raiders, Sussex Storm, Team Elites,  West Thames Tigers, Woodcote Wolverines
Returning clubs this season: A2S Wolves, Baltic Stars, Barnet East Giants, Brent Ballers, Bromley, Camden Knights, Chiswick Gators, COHENEL Warriors, East Herts Royals, Gintaras, Hackney Jedi's, Hackney Kings & Queens, Haringey Sixers, Harrow Blackhawks, K&C Knights, Kennington Generals, London Pulse, London United, Make Time Sports, Mamba Mix, MM Prep, NW Jaz, Right Development Foundation, Southwark Legends, Tower Hamlets Ravens
Clubs rejoining the league this season: Barnet Bulldogs, COLA