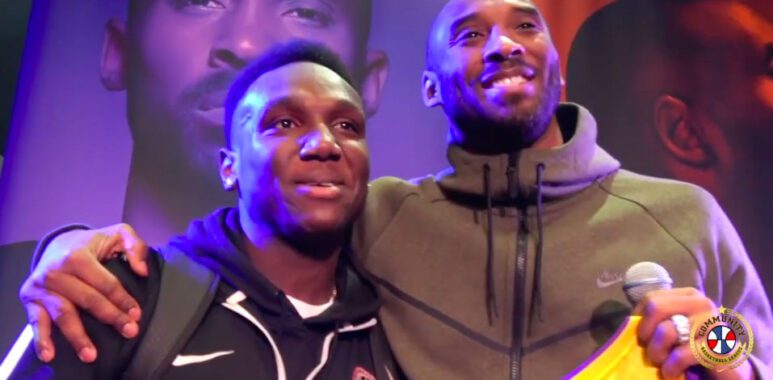 KOBE BRYANT MEETS THE CBL
Kobe Bryant, undoubtedly one of the greatest basketball players of all time, surprised lucky young ballers from the CBL and LSB network with an impromptu visit to London to share his thoughts on the now legendary 'Mamba Mentality' and inspire a new generation of players from across the capital.
'Kobe' is the NBA's 3rd highest career scoring leader, amassing an incredible 33,643 points over a 20 year career with the Los Angeles Lakers, which also saw him crowned as a NBA Champion 5 times while also earning 'All-NBA' honours 15 times alongside 18 'All-Star' game nominations. He is a bonafide basketball legend in the truest sense of the word, who has created a special place for himself at the highest levels of historical basketball achievement through an awe-inspiring work ethic and unrivalled dedication to the game that has redefined what 'hard work' truly means when pursuing your passion.
Needless to say, the opportunity to meet Kobe caused near mass-hysteria for the lucky players from CBL clubs, but for one special CBL baller in particular, the 'Mamba experience' was taken to a whole new level. COHENEL Warriors guard TJ Burnett was selected from the crowd by Kobe in recognition of his dedication and passion for the game and his sense of responsibility in wanting to pass on the gift of basketball to the next generation.
In explaining the 'Mamba Mentality' is all about overcoming obstacles, accepting your own truths and then working with Kobe-esque dedication to overcome your personal challenges, Kobe proceeded to personally challenge TJ to become an inspiration for the kids in his own community while pushing himself to become a better teammate and leader on his team. In accepting the challenge TJ forever linked his own story to one of the biggest icons in the world of basketball and will look to channel the 'Mamba' energy into fuelling his efforts in inspiring the next generation and fulfilling his responsibility as one of the leaders of the 'new school' of London Basketball.
TJ Burnett: "I've been blown away by the whole day. Meeting a true legend and him taking time to learn about me and my situation here in London has meant more to me than words can say. I'm honoured to have been selected and I will take on the challenge set by Kobe to be a better teammate on my team and leader for the young kids I coach in my local community".